2020
2018
Spring 2018: HOUSES New Zealand "Alpine Architecture – Interview with Assembly Architects"
September 3, 2018: Eco Home by Melinda Williams. Paperback 978014377153 Penguin 240 pages. Features Assembly Architects Limited; Wright House, Sawtooth and Rammed Earth House.
Spring 2018:
August 2018: HOME NZ Stackbrae featured in "Off the Shelf: solving the housing crisis with clever thinking"
July 2018 Homestolove: https://www.homestolove.co.nz/inside-homes/home-features/queenstown-family-getaway
June 2018 HOME NZ "Tailored Spaces" Edition features Binoculars, Queenstown.
April 2018 MINDFOOD features the Wright House garden with Justin and Louise Wright
2017
JUNE 2017 SLOPE & SWELL vol II #readslopeandswell
2016
December 2016 Air New Zealand KIAORA magazine features the Gibbston house, via HOME magazine.
August/September 2016 HOME NZ "Small Houses" edition features the Gibbston house in the vines.
2015
APRIL/MAY 2015 HOME New Zealand features the Rammed Earth House as one of the six Home of the Year finalists 2015
2014
OCT/NOV 2014 HOME New Zealand "A Place to Call Our Own" features the Wright House
2013
May 2013: Architectural Review Asia Pacific (AR129) reviews the Britomart Showcases
January 2013: Air New Zealand KIA ORA Magazine for the Waipatiki Beach House
2012
BIG HOUSE SMALL HOUSE New Homes by NZ Architects / JOHN WALSH & PATRICK REYNOLDS (Random House 2012) featuring the Waipatiki Beach House.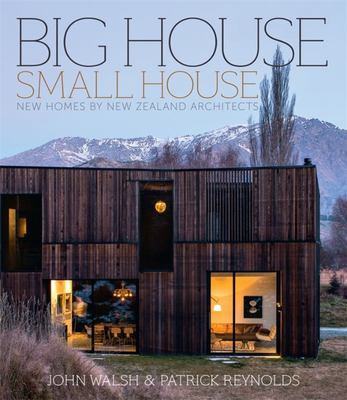 December 2012: HOME magazine: "Belonging" – Waipatiki Beach House
December 2012: Urbis Magazine "Dynamic Duo"
29 October 2012: The Fast Company Co.DESIGN story on the Zoo Hub and Kamala's Pavilion.
June 2012: Interiors magazine, Issue Four (Jun-Aug 2012) "Emerging Design Practice" Interior Awards 2012
26 March 2012: "Model Citizens" The New Zealand Herald / Element Magazine. By John Walsh.
2011
December 2011: MARU Interior Design magazine, Seoul, Korea
13 November 2011: The ZOO HUB on Gooood.hk
7 November 2011: The ZOO HUB on Arch Daily.
October 2011: The ZOO HUB on ArchitectureNow
Architecture New Zealand, September 2011: Wellington Zoo Hub. Words Tommy Honey, Photos Mike Heydon.
SIMPLY YOU LIVING Winter 2011″Town House Country House"
Urbis June 2011 "Spaces"
2010
HOME Magazine June/July 2010 Eisenhofer kitchen renovation.
The Dominion Post "Indulgence" Magazine, September 2010, Eisenhofer Kitchen Renovation, Maungaraki.
10 March 2010: Stackweave selected in SUNDAY Magazine Bestawards favourites
2006
HOME & Entertaining Magazine June/ July 2006, see more about this house here
URBIS Magazine "Two's a Company"